Revolutionary HybridLineSource technology.
HybridLineSource technology is a worldwide unique speaker design developed by Harmonic Design that dramatically reduces the needed truck space and improves the quality of a public address system to a new level of uniformity and complete absence of distortions. The HybridLineSource system, which is equipped with two specially developed high-performance 12″ neodymium woofers, achieves an efficiency of 108 dB even in the low/mid range.
Powerful LineSource-Unit makes the Difference.
The exceedingly largedimensioned high frequency LineSource-section consists of four 1.4" neodymium compression drivers with a special polymer diaphragm that, when coupled to a waveguide, produce a cylindrical wavefront with a vertical coverage angle of 40°. Therefore the throw of a HybridLineSource-System is comparable with a LineArray. Due to the coaxial setup the horizontal coverage pattern is free of interference in the crossover area and perfectly consistent over an angle range of 100°. Double-Hangs become redundant.
Efficiency new Defined.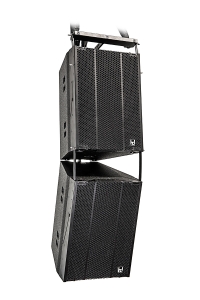 The innovative and unique hybrid horn-loaded-, vented-, coaxial- and LineArray- enclosure design ensures seamless efficiency, most compact dimensions and undistorted high SPL larger 144 dB. The hd HLS24 HybridLineSource system sets new standards in all disciplines in the double 12″ class. With the use of multiple 1.4" compression drivers the typically occurring distortion of a single driver at higher levels, is dramatically reduced another advantage is the improved headroom to cover larger distances. The special SuperVentedDesign ensures a dynamic and broadband reproduction below 60 Hz without additional subwoofers in standalone full range mode.
The mechanical design allows applications on a tripod or flown vertical arrays of up to five elements. The angle between the individual loudspeakers can be precisely adjusted from 0° to 18° in 6° increments via the integrated FastRig rigging.
Operation takes place exclusively via Harmonic Design system amplifiers and guarantees outstanding performance and compatibility even under adverse conditions as well as highest efficiency in terms of power consumption, pack size and output. Up to two speakers can be operated per channel through the Harmonic Design system amplifiers. An optional passive phase-optimized crossover allows quick and easy operation on just one amplifier channel. The 2-way BI-AMP mode provides unique neutrality and uncompromising high-end sound and is recommended for all maximum-level requirements.
Sophisticated Accessories save Time and Money.
The hd HLS24-RF3 is a flying frame and tripod adapter at the same time, which can be used to carry a loudspeaker on a speaker stand with precisely adjustable inclination in 1° increments from 0° – 15° as well as for flying a vertical array of up to five speakers. This gives best flexibility for daily changing applications while reducing the accessories effort.
The TourSys systems are available as perfectly tuned all-round full sound systems consisting of top speakers, subwoofers and system amplifiers. Several TourSys systems can be extended to a large system to realize sound reinforcement with up to 15,000 listeners.
Model

hd HLS24 (BI-AMP)
hd HLS24P (passiveXO)

Principle

Bass reflex system/hybrid horn

Transducers

2x 12″N LF
4x 1.4″N HF

Crossover

2-way active (hd HLS24)
passive, 900 Hz (hd HLS24P)

Power handling capacity

1200 W / 4800 W

Frequency range

60 Hz – 20 kHz

Sensitivity (1 W / 1 m)

108 dB

Max. sound pressure (1 m)

144 dB

Nominal dispersion angle

horizontal 100° x vertical 40°

Nominal impedance

passiveXO: 4 Ohms
BI AMP: LF 4 Ohms, HF 4 Ohms

Connection

2x Speakon NL4

Dimensions (W x H x D)

480 x 675 x 560 mm

Weight

45 kg (hd HLS24)
46 kg (hd HLS24P)

Enclosure

15 mm multiplex birch wood
polyurea plastic coating black
steel grille coated
Acoustic foam
ergonomic transport handles
35mm flange
integrated 3-point FastRig rigging

Options

installation version
hd HLS24-RF3
hd UniFrame16
Transport Protection Cover
hd TourCase
RAL color
weather protection
Model

Infra218 – Hybrid Subwoofer

Principle

Bass reflex system/horn-loaded

Transducers

2x 18″ long excursion chassis
5" voice coil, vented at pole piece and spider

Crossover

active up to max. 120 Hz

Power handling capacity

3600 W / 14400 W

Frequency range

28 Hz – 120 Hz

Sensitivity (1 W / 1 m)

106 dB

Max. sound pressure (1 m)

149 dB

Nominal impedance

4 Ohms

Connection

2x Speakon NL4
1x Speakon NL4 turning socket

Dimensions (W x H x D)

1190 x 536 x 670 mm

Weight

89 kg

Enclosure

robust multiplex housing
Polyurethane coating black
recessed connection panel with 2x NL4 rear
turning socket NL4 front
2x M20 threads
6x transport handles
Steel grille with acoustic foam inside

Options

Transport Protection Cover
hd SlientWheels Set
weather protection
RAL color